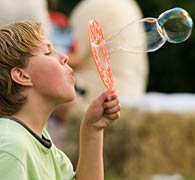 photo: Vickie Muller
June 12 was National Get Outdoors Day. Who knew?
Slipped my radar screen. What hasn't slipped my radar screen is how important it is for our kids to be outdoors. According to the Institute for Social Research at the University of Michigan, children are spending 50 percent less time outdoors than they did 20 years ago—clearly a trend we need to change.
Spending time in nature has numerous benefits, including keeping kids leaner and healthier, developing creativity and imagination, and encouraging future generations to become stewards of the land.
I found a great website where you can find a park in your area, and the site features information on upcoming events and activities, games to test your nature knowledge, and a downloadable booklet of fun stuff to do outdoors. Some of the activities outlined are matching animal tracks, making a water scope and creating a leaf or bark rubbing. If you're in the New York area, you have to check out Scenic Hudson's parks and upcoming events.
So, if you're like me and you missed National Get Outdoors Day, don't worry. We have the whole summer to get our kids off the computer, away from the television and into the outdoors. Take your kids for a hike or a bike ride. Let them climb a tree or explore rocks and leaves.
One thing I'm looking forward to doing with my kids is staying up late to do some stargazing. Check out Kids Astronomy to view the current night sky or try the Constellation game to familiarize yourself with the various constellations. This article also is good for tips on stargazing with the family.
Let us know some of your ideas for fun activities outdoors with your kids.
Happy belated National Outdoors Day!
In 2006, Francesca Olivieri co-founded the company, sage baby an online eco-friendly baby store offering everything from organic clothes and skincare to furniture. In 2010, Francesca started her own green consulting business and is helping families make changes in their lives to "go green." She also writes a monthly blog for The Family Groove and Martha Stewart's Whole Living magazine as well as contributing articles to Daily Candy Kids, YogaCity, Citiscoop, and NRDC's simple steps. Francesca lives in New York City with her husband and three kids, ages 9, 7 and 5.