One of the Hudson River's great estates in the early 20th century, Manitou Point Preserve now allows all to experience the grandeur of the Hudson River and the surrounding Highlands.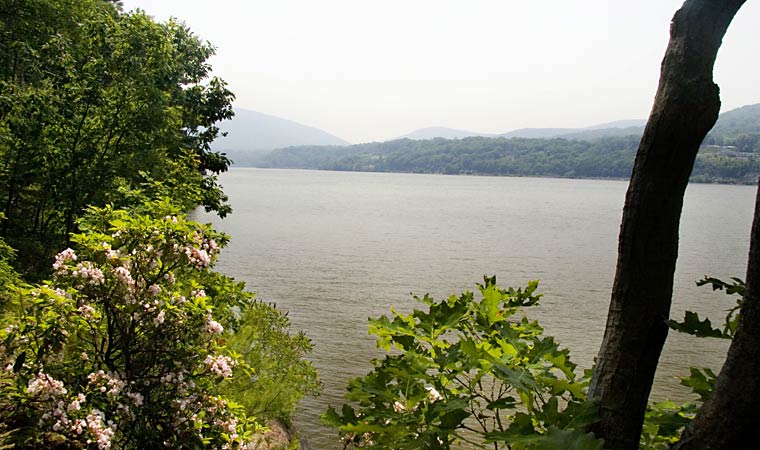 One of many splendid views from Manitou Point. Vickie Muller
Garrison, Putnam County (144 acres)—This rocky promontory originally was called Mystery Point, for reasons obscured in history. You don't need to be a detective to uncover the preserve's myriad treasures. The shaded road winding downhill from the parking area leads to a spacious lawn fronting an impressive riverfront mansion, from 1897 to 1938 the domain of a branch of the prominent Livingston family. (The house is not open to the public.) The grass is an inviting picnicking location. Sit facing north to enjoy breathtaking Hudson Highlands vistas with each bite.
From there, you can pick up hiking trails to explore more of the preserve's scenic and ecological wonders. These include Manitou Marsh, an important nursery for striped bass, and Copper Mine Brook, which features several small, picturesque cascades. But the most exciting trek hugs the Hudson shoreline atop dramatic rock outcroppings, affording with each step an ever-changing but always magnificent perspective of the river.
Park Features
Access via train
Bird watching/nature study
Dog walking (on leash)
Hiking
Picnicking
Snowshoeing & cross-country skiing (ungroomed trails)
When to visit
Year-round daily dawn to dusk. Allow a minimum of 2 hours.
Trails
4 miles of trails, most narrow and rocky, traverse Manitou Point's rugged terrain, exploring Copper Mine Brook, Manitou Marsh and the rocky Hudson River shoreline.
Manitou Point Preserve is co-owned with the Open Space Institute. Trails are maintained in cooperation with the New York-New Jersey Trail Conference.
Directions & Map
From Bear Mountain Bridge head 2 miles north on Route 9D, turn left Mystery Point Rd. Parking area and trailhead are on the left.
Maps & Resources
More to Explore — Nearby Parks