Hudson Landing -- helping to shape responsible waterfront development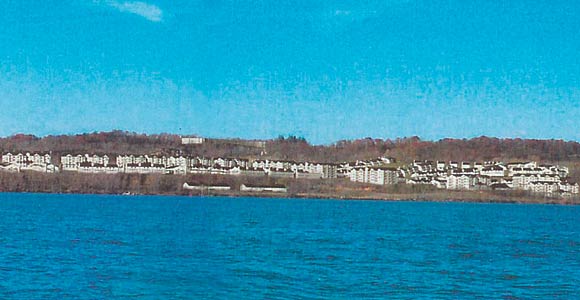 Simulation of original 2,500+-unit proposal from developer AVR In 2002 the developer AVR put forward plans for Hudson Landing, a development on the Kingston waterfront located on a 524-acre site of a former brickworks and cement factory. The proposal, calling for over 2,500 housing units, 251,000 square feet of commercial space and a 200-slip marina, would have increased Kingston's population by 6,000 people, far more than the city's traffic, sewer, school and other tax-paid infrastructure could handle. In additiion AVR's original plans -- featuring a wall of identical, suburban-style buildings accessed by cul-de-sacs and parking lots -- provided little public access to the river, destroyed ecologically sensitive areas and marred breathtaking views from the Hudson River as well as popular historic sites and parks within the Hudson River National Historic Landmark District in Dutchess County. Scenic Hudson joined with concerned citizens and other organizations to form the Friends of Kingston Waterfront coalition (FoKW). Together we worked with elected officials to put forward a better alternative that would balance Kingston's need for economic growth with its desire to preserve the unique character of the city's waterfront. The final plans for Hudson Landing approved by the city directly reflect the recommendations made by Scenic Hudson and FoKW, as well as advocacy and support from committed Scenic Hudson members. Project improvements include:
The number of building units reduced to 1,682
Commercial development reduced to 78,500 square feet
The marina eliminated
Building heights lowered to minimize visual impacts
A substantial redesign featuring two separate, traditiionally designed neighborhoods built on a grid of streets, with space between these "villages" for wildlife habitat and a new park
Buildings eliminated from a prominent ridgeline
250 acres dedicated to open space, including land for recreation, additional wildlife habitat and vegetative buffers screening more of the development from view
The entire shoreline made accessible to the public via a mile-long waterfront promenade
Groundbreaking on Hudson Landing's access road and model units is expected to take place in spring 2011.
Sailor's Cove -- another chance to get it right
In 2004 another developer submitted a proposal to build on the 76-acre site of the former Hutton Brickyard, located immediately south of the Hudson Landing property. Plans for Sailor's Cove called for 369 residential units (later increased to 383), 54,600 square feet of commercial space and a 68-slip marina. Scenic Hudson and local stakeholders submitted substantial comments on the project's Draft Environmental Impact Statement (DEIS). The overwhelming direction of these comments -- including those by the city and its consultants -- was that Sailor's Cove required an approach similar to the one taken at Hudson Landing, where the development will feature compact, mixed-use, walkable neighborhoods. After the developer failed to provide required information, the city found the DEIS to be incomplete in 2010. At the moment the Sailor's Cove project is inactive. We'll continue monitoring Sailor's Cove, so if it moves forward we can ensure the design reflects Kingston's historic character and the project does not harm the environment or views.