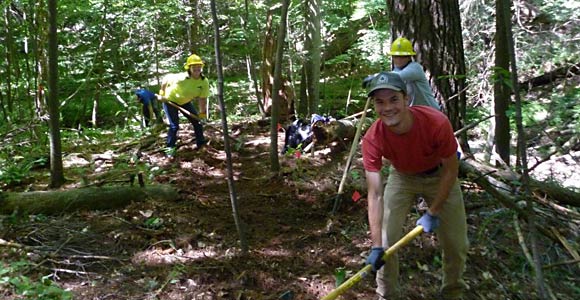 Volunteers from the Student Conservation Association building a new trail in Columbia County. More photos here.
More than 40 college interns in the Student Conservation Association's Hudson Valley Corps recently spent three days helping us complete a major portion of the new Stockport-Greenport Trail in Columbia County.
The 2.7-mile route, which passes through meadows, forests and a dramatic ravine, connects Scenic Hudson's Harrier Hill Park in Stockport with the Greenport Conservation Area. See this gallery for photos from the work session.
From June 27th through the 29th, the interns worked with Scenic Hudson park experts to put the finishing touches on a one-mile section of trail, clearing brush and vegetation, building large sections of bog bridges and blazing the route with directional markers. They also removed invasive plant species that are damaging to native plants and wildlife.
"Thanks to the passion and energy of the SCA interns, this beautiful trail is available for public use. We thank them for being outstanding partners in our mission to connect people to the Hudson Valley's natural treasures," said Scenic Hudson Parks Director Rita Shaheen.
The Student Conservation Association is an AmeriCorps partner and the only national organization that develops leaders through service opportunities in all 50 states. The Scenic Hudson project is one of just two selected from the Hudson Valley SCA region for a major group volunteer project this season. The other initiative will happen during the fall at the Saratoga Spa State Park.