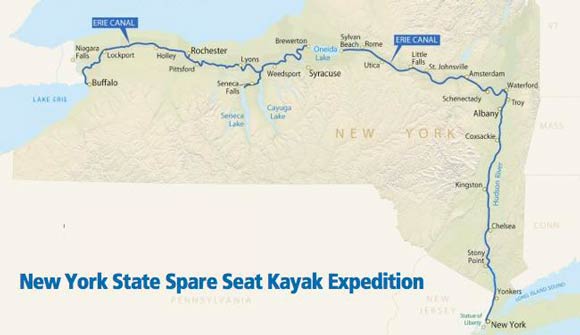 The adventurers on the New York State Spare Seat Kayak Expedition are paddling from Niagara Falls to the Statue of Liberty.
British expeditioner Richard Harpham and fellow adventurer and photographer Glenn Charles are doing an epic, 500-mile kayaking journey from Niagara Falls to the Statue of Liberty.
For nearly half of their trip, which began on May 1, the duo will be paddling on the Hudson River, enjoying the scenic beauty, heritage and wildlife that make the river and the lands along its shores so special. Their journey is called "New York State's Spare Seat Kayak Expedition," with the pair traveling solo in double-seat kayaks so special guests can join them for portions of the trip. Passionate conservationists, the men are stopping in communities along the way to give talks, encourage people to kayak and experience nature, and promote efforts to protect the Hudson and other state waterways. The expedition is attracting outstanding media coverage regionally and will result in extensive reporting in Harpham's native Great Britain.
On Friday, May 18, Ned Sullivan will fill one of the kayakers' spare seats. He'll be interviewed during their 90-minute paddle from White's Marina in New Hamburg (Dutchess County), which they'll leave around noon, to Scenic Hudson's Long Dock Park in Beacon. Once they arrive, Ned will lead a tour of the park, particularly its kayak pavilion and Scenic Hudson's River Center. When the adventurers leave, Ned will hop in his own kayak and join them on the next leg of their southbound journey.
Dutchess County Tourism is providing information on how the public can be part of the exciting expedition; we hope Scenic Hudson members will take advantage of this unique opportunity. With the attention the trip is getting in the press and with public officials, this is great way to show your support for the health of the Hudson and communities along its banks.