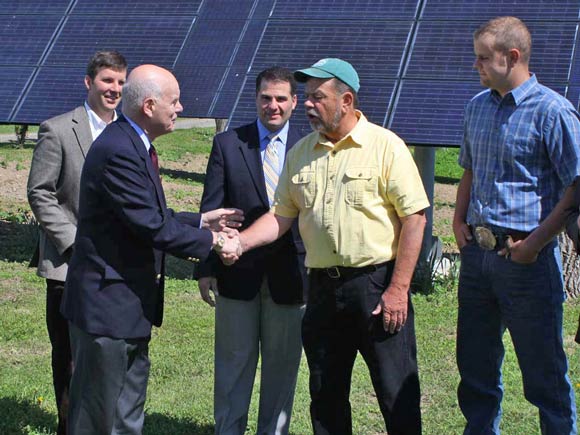 NYS Senator Steve Saland congratulates Northwind Farms owner Rich Biezynski while Hudson Solar's Dave Byrne, Dutchess County Executive Marc Molinaro and farmer Russell Biezynski look on.
On Friday, May 18, Northwind Farms in Tivoli and Hudson Solar of Rhinebeck officially announced the installation of a new photovoltaic array that is projected to gather 20 percent more electricity than the farm uses each year.
Earlier this year, Scenic Hudson partnered with Northwind Farms, the USDA-Natural Resources Conservation Service, the Dutchess Land Conservancy, and the Town of Red Hook to purchase a conservation easement on the farm's 87 acres. Proceeds from that purchase directly contributed to the solar installation on the farm. "Since opening in 1981, I've always tried to maintain a natural environment on my farm," said Richard Biezynski, owner of Northwind Farms. "I've been a staunch supporter of healthy feeding and even developed my own organic meal for the animals. I wanted to maintain that green philosophy throughout other initiatives on my farm, so implementing clean solar technology only made sense." "Mr. Biezynski is a wonderful role model in the farming community," said John Wright, vice president of Hudson Solar. "Even businesses like farming that are often viewed as being eco-friendly traditionally have used equipment which still takes a toll on our planet. Installing solar panels helps to keep farms truly green." "It is gratifying to see a farm family put the proceeds of sale of a conservation easement to such good use — for the farm's economic viability, and for its environmental sustainability," said Seth McKee, Scenic Hudson's Land Conservation director. "This is a great example of how a purchase-of-development-rights (PDR) project becomes an economic development project. Through a multiplier effect, the cash proceeds have rippled through the local economy, creating and sustaining green jobs with the Hudson Valley's premier renewable energy company." See this Flickr set for additional photos.