Putting the pieces together
Eight farmers on scenic West Kerley Corners Road in Red Hook (Dutchess) have been seeking a way to protect their highly productive land since 2008. Scenic Hudson's track record for leveraging strategic partnerships is about to make it happen. Our collaboration with the Dutchess Land Conservancy, the Land Trust Alliance and the town—combined with $1.8 million from the USDA's Farm and Ranch Lands Protection Program—will enable the farmers to place conservation easements on their farms, which include major suppliers of poultry, meat and produce to local and New York City markets. In addition to permanently conserving 440 acres, the funding will provide the farmers with capital to expand their family businesses and reinvest in their community.
Making farmland affordable, keeping economies viable
USDA funding also will help us protect two Columbia County farms— 83-acre Diehl Farm in Germantown, which provides grapes, hay and straw to the local market, and 157-acre O'Neal Farm in Clermont, ensuring continued supplies of fresh, healthy meat and produce—and allowing former tenant farmers Ben and Lindsey Shute to purchase a portion of the land, providing a permanent home for their popular Hearty Roots Community Farm.
In Stuyvesant (Columbia) we worked with farmers to protect two farms. An easement on the 150-acre multigenerational Austin Farm will allow for potential expansion of its cattle and hay operations. Partnering with the Columbia Land Conservancy, we purchased an easement on 82 acres, making it affordable for previous leaseholders David and Melinda Rowley to purchase. This will allow them to expand their Monkshood Nursery, which supplies herbs, greens and vegetables to local and New York City markets.
With funds from the Doris Duke Charitable Foundation, we're developing strategies to further secure the "foodshed" of the valley and New York Metropolitan Area.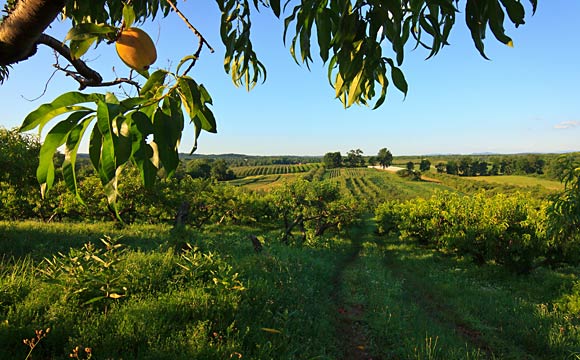 Newly conserved Red Hook farmlandphoto: Robert Rodriguez, Jr
Help us support local family farms and the fresh, healthy food they supply — support our work with a tax-deductible donation today.