Maintaining magnificent Highlands vistas
Driving across the Bear Mountain Bridge or riding Metro-North to Cold Spring or beyond, you've likely seen the property known as Rose's Camp. It sits amid an unspoiled, 10-mile ridge in the western Hudson Highlands, one of the valley's most magnificent panoramic views. When we purchased these 72 forested acres, they were threatened by residential development destined to destroy world-class views and block recreational access on the land, which is adjacent to Bear Mountain State Park and Scenic Hudson's 140-acre Popolopen Ridge. Thanks to a zero- interest loan from The Peter and Carmen Lucia Buck Foundation and the generosity of other supporters, future generations will experience this natural splendor that supports the region's vital tourism economy.
Partnering to protect Olana's historic views
Breathtaking vistas help Olana generate $7.9 million of economic stimulus each year in local communities. With partners we protected two Columbia County landscapes integral to conserving Olana's "viewshed," in which we've now preserved more than 1,300 acres. With the Open Space Institute, The Olana Partnership and the Omega Institute, we acquired a conservation easement on the 95-acre Pleroma Farm in Greenport, so it will keep supporting the town's agricultural economy. In Livingston, Allan and Julie Shope generously donated an easement protecting 73 acres and 1,500 feet of Hudson shoreline.
Conserving scenic treasures from two tourism mainstays
An easement secured on the 84-acre West Park Winery in Esopus (Ulster) protects a scenic hillside and meadows prominently visible from the FDR-Vanderbilt National Historic Sites in Hyde Park.
Providing clean air and water
All of our "must-save" acquisitions make our air and water cleaner. They purify water as it's absorbed into local aquifers—communities' prime water sources. Woodlands sequester carbon and release oxygen, and wetlands absorb contaminants before they can reach water supplies.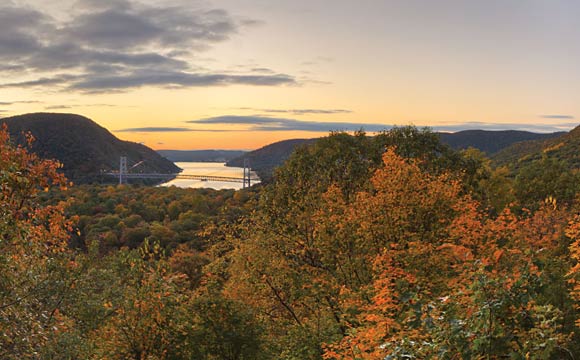 View from Rose's Campphoto: Robert Rodriguez, Jr
Help us Save the Land That Matters Most in the Hudson Valley — support our work with a tax-deductible donation today.