Seizing the Moment, Facing the Future
Dear Partners,
Thanks to your help and support, Scenic Hudson is seizing the moment in securing the most important conservation lands in the valley—including hundreds of acres bordering Bear Mountain and Harriman State Parks that will enable more than 30,000 Girl Scouts to continue enjoying nature while learning valuable skills and lessons for the future. In Columbia and Greene counties, we're protecting vistas painted by the Hudson River School artists, and in Albany and Yonkers we're helping reconnect people with tributaries that have been buried under concrete or forgotten.
We're poised to preserve more working farms in the Hudson Valley than ever in history. Partnering with a new generation of entrepreneurial farmers, we are bringing to bear our expertise in farmland preservation and nance, collaborating with fellow land trusts, generous private philanthropists and government. Governor Cuomo's $20-million Hudson Valley farmland initiative—a success of our public policy advocacy—has boosted our efforts into a new orbit.
We're also seizing the moment in challenging the unholy alliance between the Environmental Protection Agency and General Electric, both poised to run away from hundreds of acres of Hudson River sediment still contaminated by GE's cancer-causing PCBs. With New York State now on our side, other elected officials are joining the cause for a clean and healthy river.
Finally, we're boldly facing the future—fighting the transformation of the Hudson River into an industrial superhighway for crude oil transportation and storage and pointing to an alternative pathway. We believe the future of the valley and planet depend on a pivot to renewable energy and preservation of key lands that will ensure survival of critical habitat, wildlife and agricultural resources as our climate changes. Vital Hudson Valley cities are a key element of this future, where smart growth, vibrant culture, and access to parks and the river will retain young people—the lifeblood of our future.
Your help in seizing the moment and facing the future will continue to be essential in the year ahead.
With thanks,
—James C. Goodfellow, Board Chairman and Ned Sullivan, President, November 2016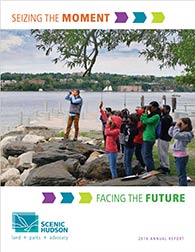 Download Scenic Hudson's 2016 Annual Report (PDF/9MB)
Previous Annual Reports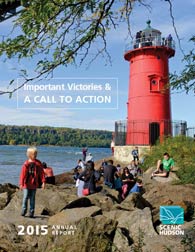 Download Scenic Hudson's 2015 Annual Report (PDF/2.9MB)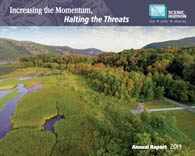 Download Scenic Hudson's 2014 Annual Report (PDF/3.4MB)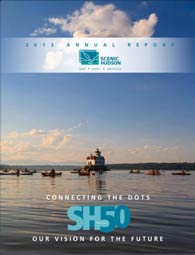 Download Scenic Hudson's 2013 Annual Report (PDF/4.3MB)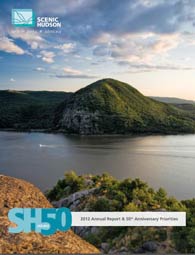 Download Scenic Hudson's

2012 Annual Report and 50th

Anniversary Priorities (PDF/2.8MB)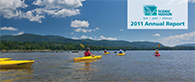 Download Scenic Hudson's

2011 Annual Report (PDF/1.3MB)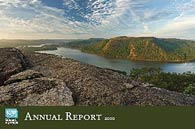 Download Scenic Hudson's

2010 Annual Report (PDF/4.4MB)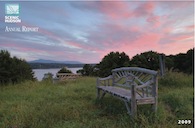 Download Scenic Hudson's

2009 Annual Report (PDF/2.1MB)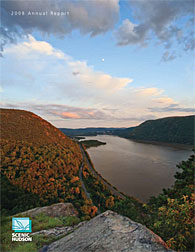 Download Scenic Hudson's

2008 Annual Report (PDF/2.6MB)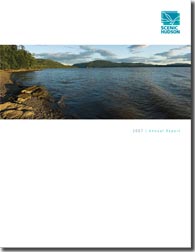 View Online or Download

Scenic Hudson's 2007 Annual

Report (PDF/2.6MB)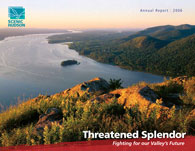 Download Scenic Hudson's 2006 Annual Report (PDF/2.6MB)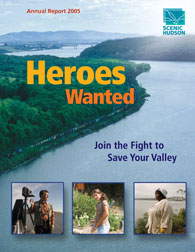 Download Scenic Hudson's 2005 Annual Report (PDF/2.6MB)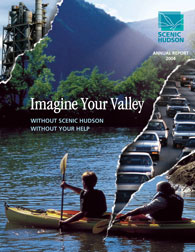 Download Scenic Hudson's 2004 Annual Report (PDF/2.6MB)